A Homemade Plan provides home care services in Maryland. The services we offer allow seniors and individuals with disabilities to remain safe and independent in their home. We thoroughly screen and hire qualified caregivers to perform activities of daily living. Below, please find a general list of services that we provide. We customize our service to meet the needs of each family we serve. So if your loved one has specific needs that are not listed below, we are very accommodating and will be happy to explore what tasks we can help with. Please call us at (888) 610-2643 to discuss next steps or learn more about what services we can and can not provide.
Our Services
Personal Hygiene
Bathing
Toileting
Changing of Incontinence Products
Morning/Evening Care
Dressing
Mobility Assistance
Walk Assistance
Exercise Assistance
Transfers
Medication Management
Medication Administration
Medication Reminders
Companionship
Social Engagement
Memory Care
Alzheimer's/Dementia Care
Light Housekeeping
Laundry
Dishes
Changing of Linens
Meal Preparation
Healthy Meal Planning
Monitoring Diet
Monitoring Fluid Intake
Transportation
Errands and Shopping
Doctor Appointments
Special Circumstance
Respite Care
Post Surgery/Injury Care
Senior Care and Disability Care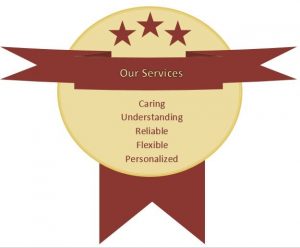 Flexibility:
A Homemade Plan understands that every family's needs are unique. We offer flexible schedules that will meet your specific needs. A Homemade Plan offers home care service to Maryland residents on either an hourly or live-in basis.
With the exception of hourly minimums, your schedule is completely up to you and can be changed at anytime with reasonable notice. We do ask for an on-going schedule so we can schedule a regular Caregiver.
Rates:
A Homemade Plan offers home care services at very competitive rates. Please call (888) 610-2643 to get a free rate quote today.