Services Provided

Personal Hygiene

Bathing

Toileting

Changing of Incontinence Products

Mobility Assistance

Walk Assistance

Exercise Assistance

Transfers

Medication Management

Medication Administration

Medication Reminders

Morning/Evening Care


Companionship

Social Engagement

Memory Care

Alzheimer's/Dementia Care

Light Housekeeping

Laundry

Dishes

Changing of Linens

Meal Preparation

Healthy Meal Planning

Monitoring Diet

Monitoring Fluid Intake

Transportation

Errands and Shopping

Doctor Appointments

Special Needs Assistance

Respite Care

Post Surgery/Injury Care

Senior Care and Disability Care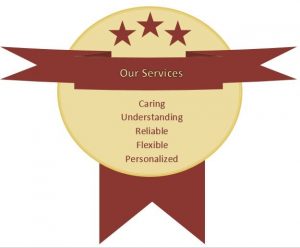 Flexibility:
A Homemade Plan understands that every family's needs are unique. We offer flexible schedules that will meet your specific needs. Schedules can range from as little as 2 hours a day to as many as 24 hours a day.
Rates:
A Homemade Plan offers home care services at very competitive rates.
Call (888) 610-2643 to get a free rate quote today.